The eleventh edition of the FIFAN will take place from 26 au 30 March 2019, at Nyon's community hall.
The program will be available (in French) from 1st of March.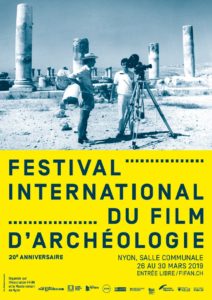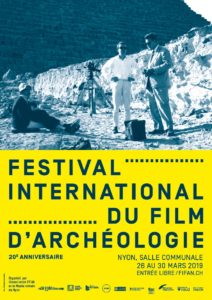 1999-2019
Le Festival International du Film d'Archéologie de Nyon fête ses 20 ans.
Exceptionnellement cette édition du FIFAN a eu lieu à la salle communale de Nyon
Pour fêter cet anniversaire, le FIFAN s'est intéressé à l'histoire du film d'archéologie. La création de la télévision a donné un nouveau souffle à la production de ce type de documentaire. Pionnière en Europe, la Télévision Suisse Romande (RTS actuelle) a entraîné avec elle d'autres chaînes nationales, entre autres celles de France ou de Belgique. La soirée inaugurale du Festival a présenté une production récente de la RTS, Archéologie en Suisse, à la recherche de l'amour, qui a été suivie par une présentation de Pierre Barde, producteur historique de la série L'homme à la recherche de son passé. Il a parlé de l'âge d'or du documentaire d'archéologie à la RTS pendant les années 1960 et 1970. La projection du film Les Mayas, tourné en 1963, a terminé cette soirée.
D'autres productions suisses ont été présentées tout au long de la semaine ; la séance de jeudi soir y a été entièrement consacrée, notamment avec un film comme Tauredunum, un Tsunami sur le Léman. Samedi a été présenté Le geste et la matière, un film sur l'archéocéramiste suisse Pierre-Alain Capt, en sa présence.
Lors du festival, le voyage dans le temps peut se doubler d'un voyage aux quatre coins du globe. Si les grandes civilisations précolombiennes, égyptiennes ou mésopotamiennes ont été à l'honneur au long de la semaine, le programme a fait place aussi à des lieux moins connus pour leur histoire avec, par exemple, des films consacrés à la découverte du Groenland et sa colonisation par les Vikings, ou aux vestiges laissés par les premières tribus qui sillonnèrent le désert du Sultanat d'Oman voici cinq millénaires.
La session de mercredi soir a été dédiée au rapport entre l'Égypte et la tradition biblique, avec deux films sur les 10 plaies d'Egypte et une présentation de l'égyptologue Pierre Meyrat.
La journée entière de vendredi a été consacrée à la préhistoire. L'homme de Néandertal et sa problématique en a occupé l'essentiel. Quelle fut sa vie, comment a-t-il cohabité avec l'homme moderne et pourquoi a-t-il disparu ? Telles sont les questions qui ont été abordées dans les films au programme de cette journée. Quant à l'actualité archéologique, elle a été à l'honneur avec la présentation, en avant-première, du film Le mystère de la grotte de Bruniquel. Ce documentaire présente les recherches récentes qui ont permis la datation d'une structure réalisée par l'homme dans une grotte il y a 175'000 ans: il s'agirait donc de la plus ancienne construction humaine connue à ce jour.
Le samedi, une séance de midi spéciale a présenté Le papyrus oublié de la grande pyramide, un film qui dévoile le déchiffrement d'un papyrus écrit par l'un des constructeurs de la pyramide de Khéops. Le texte décrit les travaux de construction de l'une des sept merveilles du monde.
L'après-midi a été consacré à la période gauloise et romaine tandis que le festival s'est terminé en soirée par la cérémonie de remise des prix et la projection d'un choix de films primés.
Die nächste Ausgabe des Festivals findet vom 26. bis 30. März 2019 statt!